We try our best to make the image match the product we have in stock. In rare cases, the packaging may be updated by the brand without warning, or the language might differ from the one you see presented.
Watch videos about this product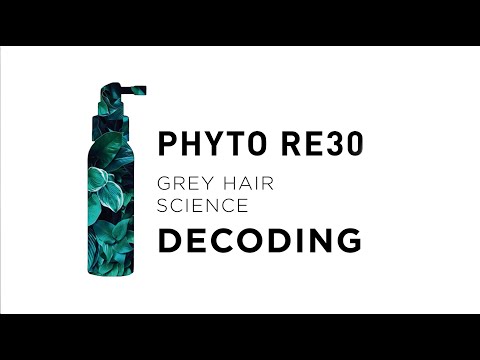 Details
PHYTO RE30 Anti White Hair Treatment is the first product worldwide to be able to repigment the first white hairs at their core. This means that the product doesn't contain any pigments itself, as it doesn't dye the hair, but helps to boost the melanin at the root, bringing back the lost color. To that end, the formula contains the Peptide discovered by Phyto after six years of research, the RE30 Peptide. The RE30 Peptide mimics the protein alpha-MSH. It boosts melanin production at the roots and helps naturally repigment the hair. Moreover, this Peptide also boosts catalase and inhibits the hydrogen peroxide, which has a bleaching effect on the hair and removes the pigmentation. Therefore, the new color is able to be fixed on the hair fiber and the hair will start growing with color again.
The results will be visible as soon as the hair grows, which takes around three months. It is suitable for both men and women and can be used on dyed hair. Note that this product has been designed for the first white hairs. The results may not be so visible if you have a wide percentage of white hairs and they will last for as long as you use the product, as this is not a permanent solution.
Characteristics
Texture: liquid;
Hair issues: first white hairs;
Supply for: 1 month;
Time of application: morning;
Age: 20+;
Hair type: all hair types;
Main benefits: naturally repigments the first white hairs, has a light and non-greasy texture, contains 98% ingredients of natural origin, is suitable for dyed hair, is suitable for men and women;
Formulated without: coloring pigments, parabens, silicones, sulfates.
Main Ingredients
Peptide RE30 mimics the action of the protein alpha-MSH. It boosts melanin production at the roots and helps naturally repigment the hair. Peptide RE30 also inhibits the hydrogen peroxide production that has a bleaching effect and leads to whitening;
Purple Tulip Extract acts on the keratin of the hair fiber and helps strengthen the hair. It increases flexibility which not only fortifies the hair but also enhances shine.
How to use
Apply PHYTO RE30 Anti White Hair Treatment daily by pulverizing 8 times onto the scalp. Do a light massage, with dry or wet hair, and don't rinse.
Although this product may be able to correct the appearance of white facial hair (in the beard, etc), no tests have been conducted on this type of use. We recommend that you follow the instructions of use given by the manufacturer. Take care to cease the treatment should any side effects occur.
Additional Info
Product Indications
First White Hairs
Share
For better results, also use: