Mustela Baby Dry Skin Nourishing Cream w/ Cold Cream 40ml (1.35fl oz)
In Stock
Return Policy
Order now and get it between Monday December 4th and Wednesday December 6th in the United States with DHL Express Shipping.
---
---
Mustela Baby Dry Skin Nourishing Cream w/ Cold Cream 40ml (1.35fl oz) moisturizes and strengthens the skin from the first days of life, protecting the health of the baby's skin today and for the future.
About
Mustela Baby Dry Skin Nourishing Cream w/ Cold Cream 40ml (1.35fl oz) was specially developed to intensely nourish and protect the skin of babies from the very first day. With an ultra-smooth and rich texture, this special formula offers instant and long-lasting hydration to the sensitive skin of a child. Furthermore, it equally focuses on restoring the skin's natural barrier, ensuring that it stays protected and more resilient against environmental damage. Thanks to the presence of Avocado Perseose®, the Nourishing Cream w/ Cold Cream preserves, moreover, the skin's cellular richness of the baby.
Lastly, it is equally important to mention that this is a pediatric high tolerance composition that was dermatologically tested. In fact, the Nourishing Cream w/ Cold Cream is suitable to provide daily care to all newborns and toddlers, including babies out of NICU.
Characteristics

Texture: cream;
Skin issues: dryness, dehydration;
Time of application: morning and/or evening;
Age: 0+;
Skin type: dry skin, including sensitive;
Main benefits: immediately nourishes dry skin with a long-lasting effect, intensely moisturizes, restores the skin's barrier and protects the skin from external factors, preserves the skin's cellular resources, has a hypoallergenic formula, its composition contains 97% of ingredients from a natural origin.
Main Ingredients

* Care to Beauty updates the product ingredient listings periodically. However, the ingredients list might be changed by the brands without any warning, so please read the ingredients list on the packaging of your product before using.

Avocado Perseose® is a biomimetic natural active ingredient that hydrates and helps the development of the baby's fragile skin barrier;
Blend of Ceramides and Cold Cream nourishes the skin and help to maintain its natural protective barrier, simultaneously;
Beeswax also provides optimal levels of nourishment while protecting the skin's barrier;
Shea Butter softens and nourishes the epidermis;
Vegetable Oils, which are rich in sterol and are a source of essential fatty acids, nourish the skin in-depth.
How to use

Apply an appropriate amount of the Mustela Baby Dry Skin Nourishing Cream w/ Cold Cream 40ml (1.35fl oz) in the morning and evening to the baby or child's face. Then, massage gently for maximum absorption. Finally, complement with other products from the same brand for optimal results.
Product Indications

Dry Skin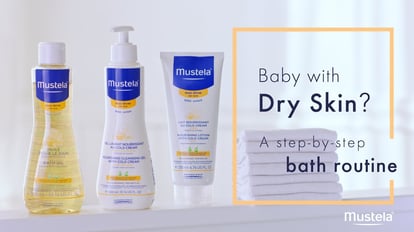 Bath Time Routine for Babies with Dry Skin | Mustela
Bath Time Routine for Babies with Dry Skin | Mustela