We try our best to make the image match the product we have in stock. In rare cases, the packaging may be updated by the brand without warning, or the language might differ from the one you see presented.
Details
CeraVe Facial Moisturising Lotion is a lightweight lotion that deeply nourishes the skin and restores the skin's barrier function. The ceramides help to repair the skin barrier thanks to their biocompatibility, niacinamide helps to soothe the skin and hyaluronic acid deeply hydrates the skin. With a vegan formula and a non-greasy finish, this lotion is non-comedogenic and provides hydration in just one use.
Characteristics
Texture: lotion;
Skin issues: dehydration, lack of nourishment;
Time of application: evening;
Age: 10+;
Skin type: normal to dry skin, including sensitive;
Main benefits: nourishes the skin, lightweight, vegan formulation, non-comedogenic;
Formulated without: ingredients of animal origin, alcohol, fragrance, parabens.
Main Ingredients

Care to Beauty updates the product ingredient listings periodically. However, the ingredients list might be changed by the brands without any warning, so please read the ingredients list on the packaging of your product before using.
Essential ceramides 1, 3 and 6-II help to restore the skin barrier thanks to the biocompatibility and the ability to retain moisture;
Hyaluronic acid can hold up to 1000x its weight in water, which means that it's available to hydrate the skin;
Niacinamide helps to reduce inflammation and to soothe the skin;
MVE Delivery Technology ensures a slow release of the active ingredients for a hydration that lasts all day.
How to use
Apply CeraVe Facial Moisturising Lotion generously in the morning and evening, onto cleansed skin of the face, neck and chest.
Additional Info
Product Indications
Night Cream
Share
For better results, also use: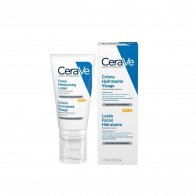 Regular Price: $18.13
Special Price $15.41