Details
SkinCeuticals Hydrating B5 Gel is a skincare booster that hydrates and repairs the skin. This fluid contains hyaluronic acid, known for retaining up to 1000x its weight in water, that helps to deeply hydrate the skin. Vitamin B5 has regenerative properties which make this gel an ideal product to use after your skin suffered aggressions, like during periods of intense solar exposure or harsh environments with cold temperatures and strong winds. The skin becomes soft and the rest of the skincare action are boosted.
Characteristics
Texture: liquid;
Skin issues: dehydration, aging, acne, sensitivity;
Time of application: morning and evening;
Age: 20+;
Skin type: all skin types, including sensitive skin;
Main benefits: boosts hydration levels, promotes tissue repair, reduces signs of aging;
Formulated without: oil, parabens.
Main Ingredients
0.5% Hyaluronic acid to help retain water in the skin, fighting dehydration;
Vitamin B5 repairs the skin and boosts regeneration.
How to use
Apply SkinCeuticals Hydrating B5 Gel in the morning after the prevention product and before the correction one. Apply 2-3 drops to the face, neck and chest and lightly massage the skin.
Additional Info
Share
For better results, also use: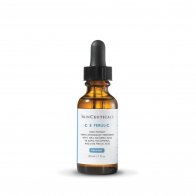 Price:
$200.40
& FREE Shipping