We try our best to make the image match the product we have in stock. In rare cases, the packaging may be updated by the brand without warning, or the language might differ from the one you see presented.
Watch videos about this product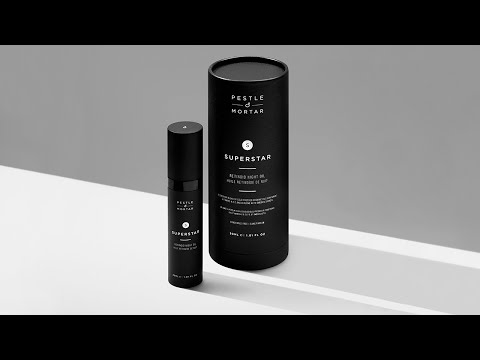 Details
Pestle & Mortar Superstar Retinoid Night Oil is a luxurious oil-based retinoid formula which helps to reduce the appearance of fine lines and dilated pores. Given the combination of two new-generation retinoids in an oil base, this is the perfect retinoid product if you usually suffer from irritation. For this purpose, the brand has combined a blend of cold-pressed and steam-distilled natural oils that helps to fight free radicals and to soothe the skin. Formulated to be used at night, this serum supercharges your skin while you sleep and, in essence, helps to revert part of the skin aging signs it is already showing. On the other hand, if you suffer from excessive oil production, retinoids also help to control sebum production.
Characteristics
Texture: oil;
Skin issues: fine lines and wrinkles, dilated pores, excessively oily skin;
Time of application: evening;
Age: 30+;
Skin type: all skin types;
Main benefits: reduces the appearance of fine lines and wrinkles, reduces the diameter of dilated pores, boosts the skin's firmness, non-irritating, vegan;
Formulated without: fragrance, parabens, animal-derived ingredients.
Main Ingredients
0.2% H

ydroxypinacolone retinoate and Retinyl palmitate are new generation retinoids which help to reverse signs of aging such as wrinkles and lack of firmness;

cold-pressed Grapeseed oil helps to tighten dilated pores, thus reducing their diameter;

a mix of cold-pressed oils (rosehip, carrot and sunflower) repair damaged skin and help to fight irritation;

a blend of steam-distilled oils (black cumin seed, pomegranate and jojoba) revitalize the skin by fighting free radicals, responsible for premature aging.
How to use
Apply Pestle & Mortar Superstar Retinoid Night Oil by applying one pump of the product to a perfectly cleansed and toned skin, avoiding the eye and lip contours. If you use serums, apply the Retinoid Night Oil after them, and if you use moisturizers, apply them after the oil.
Additional Info
Share