We try our best to make the image match the product we have in stock. In rare cases, the packaging may be updated by the brand without warning, or the language might differ from the one you see presented.
Watch videos about this product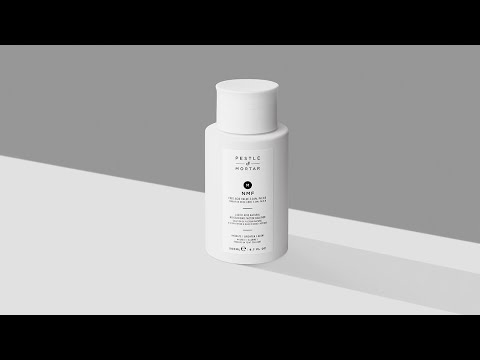 Details
Pestle & Mortar NMF Lactic Acid Toner is the hero toner for those suffering from skin sensitivity who also want a peeling toner. Having sensitive skin is often likely to be incompatible with an exfoliating toner. However, if you choose the right ingredients, it's not that hard to achieve your skin goal of perfectly smooth skin. With lactic acid and gluconolactate, both known for their compatibility with sensitive skin, the outer layer of dead skin cells is gently removed, while at the same time the hydrolipidic mantle that protects the skin is reinforced. Additionally, this formula also contains natural moisturizing factors that give the product its name and improve the hydration levels. Indian gooseberry extract, together with black tea extract, help to fade hyperpigmentation and boost the radiance of the skin.
Another key point of this star product is that it's formulated without any fragrance or alcohol, which translates into a perfectly curated formula for all skin types, even those with sensitivity and redness. This toner harnesses the best ingredients for sensitive skin and combines them with ones that naturally occur on the skin, in order to achieve maximum compatibility while delivering hydration, radiance and even texture.
Characteristics
Texture: liquid;
Skin issues: dehydrated skin, irregular texture, sensitivity, dark spots;
Time of application: morning and/or evening;
Age: 15+;
Skin type: all skin types, including sensitive;
Main benefits: deeply hydrates the skin, gently exfoliates the skin, improves the skin texture, helps to fade hyperpigmentation, vegan;
Formulated without: parabens, animal-derived ingredients, mineral oil, fragrance, alcohol.
Main Ingredients

Care to Beauty updates the product ingredient listings periodically. However, the ingredients list might be changed by the brands without any warning, so please read the ingredients list on the packaging of your product before using.
Natural Moisturising Factors are a powerful mix of hydrating substances that naturally occur on the skin, in order to protect it from dehydration and to keep it protected;
Lactic Acid with a free acid value of 5.34% and pH 3.8 formula gently exfoliates the skin, hence making it compatible even with sensitive skin;
Gluconolactate is a PHA with a gentle exfoliating action that helps to remove the dead cells on the top layer of the skin, thus improving the skin texture;
Indian gooseberry extract is full of Vitamin C, hence making it a perfect brightening and revitalizing treatment. Additionally, it also helps to fade hyperpigmentation and even the skin tone.
How to use
Apply Pestle & Mortar NMF Lactic Acid Toner onto a cotton pad and gently sweep it over previously cleansed skin, avoiding the eye contour. You can use this toner both in the morning and evening.
Additional Info
Share