Watch videos about this product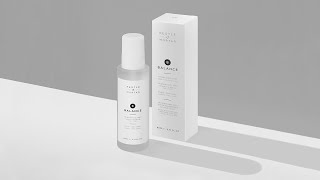 Details
Pestle & Mortar Balance Spritz is the go-to mist for your day-to-day life. Misting throughout the day offers so many benefits that people are embracing it as a lifestyle, carrying the mist with them and spritzing to hydrate the skin on the go and to fight off pollution. On one hand, with one single gesture, you get all the benefits of deep-sea Irish magnesium, a unique blend of herbal extracts and a combination of balancing amino acids. On the other hand, you benefit from the zen gesture in which you take a deep breath and just enjoy the moment, a mini-break from the agitated urban life. The skin becomes radiant and hydrated, with a true pollution shield being kept active at all times in order to protect your skin.
Characteristics
Texture: liquid;
Skin issues: dehydration, oily skin, urban environments;
Time of application: throughout the day;
Age: 15+;
Skin type: all skin types;
Main benefits: balances sebum production, fights signs of ageing, deeply hydrates;
Formulated without: parabens, animal-derived ingredients.
Main Ingredients
a unique combination of amino acids helps the skin to maintain the hydration;
Deep-sea Irish magnesium helps to balance the skin's sebum production;
a blend of botanical extracts helps to fight off pollution effects on the skin.
How to use
Spritz Pestle & Mortar Balance Spritz according to your skin's needs. Use under your moisturizer to increase its absorption, apply during the day to fight off pollution, or use throughout the day for a hydration boost or to prevent your skin from drying out from very dry environments or air conditioning.
Additional Info
Share