We try our best to make the image match the product we have in stock. In rare cases, the packaging may be updated by the brand without warning, or the language might differ from the one you see presented.
Watch videos about this product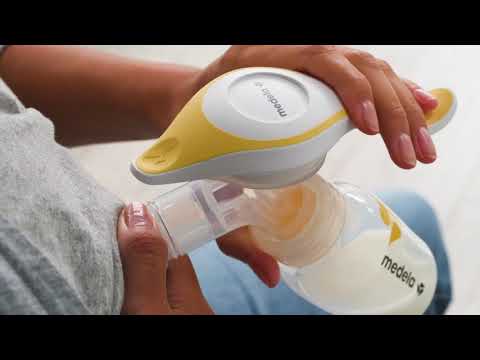 Details
Medela Harmony™ Flex Manual Breast Pump x1 provides great help for nursing mothers who need a practical, comfortable, yet effective breast pump. In this sense, this manual breast pump combines an ergonomic and easy-to-use handle perfect for mothers who only do occasional breast pumps. Furthermore, its design is very intuitive, easy to use, and extremely light. This way, wherever you go, you can take your breast pump with you. At the same time, its size is discreet in addition to being very quiet.
Regarding the provided PersonalFit Flex™ funnel, this provides greater comfort to the mother as well as greater efficiency in the extraction of breast milk. In this sense, with an opening angle of 105 degrees, a soft rim, and an oval shape, it adapts to any breast. This way the extraction is not only comfortable but also faster. This is because there is not as much pressure on the breast ducts, which results in more milk being withdrawn from the breast in the same amount of time.
Furthermore, this extraction pump features 2-Phase Expression technology. Specifically, it can reproduce the baby's sucking rhythm, which is rhythmically slower and faster. In this sense, you can effortlessly achieve this rhythm by starting by using the short side of the handle at an accelerated pace to stimulate the flow of milk. Once the milk starts flowing, just use the long side of the handle for extraction. It is concluded that this ergonomic handle is easy to use as it provides enormous practicality. Finally, it is important to mention that the handle of this extractor is flexible and rotates from one side to the other. This becomes practical and comfortable so that the mother can exert force with the hand that is most comfortable for her at the moment. In turn, this handle is loose and needs very little pressure to do its job properly.
Finally, this breast milk pump is also easy to clean due to the few parts it contains. All you have to do is disassemble everything, wash and reassemble, which takes a short time. Furthermore, the fact that it does not have a battery or wires encourages the whole issue of comfort, speed, and ease of use. All in all, this milk pump kit is perfect for occasional use, while on vacation or even on a busy day.
Characteristics
Good for: extract breast milk manually;
Main benefits: it is practical, compact and can be easily transported; provides greater efficiency in extraction due to its shape and funnel; easy and quick to clean and disinfect; silent and unobtrusive;
Intensity levels: two intensity levels at extreme ends of ergonomic handle;
This pack contains*: one Harmony™ Flex pump, one PersonalFit Flex™ Breast Shield Medium Size (24mm), one 150ml bottle, one bottle holder, one cap.

*Subject to change according to brand.
How to use
Before using Medela Harmony™ Flex Manual Breast Pump x1 for the first time you must disaggregate all its parts and disinfect each one. To assemble all parts, follow the instructions provided in detail.Finally, to start extracting breast milk, simply insert the funnel into your breasts in the best and most comfortable way possible. Start by pressing the smaller end of the handle in short, intermittent movements. Then, when the milk starts to flow into the bottle, make the same kind of movements using the other end of the handle. In the end, all you have to do is store your extracted milk and disinfect all the utensils again.
Additional Info
Product Indications
Extract Breast Milk Manually
Share
For better results, also use: