We try our best to make the image as a representative of the actual product as possible. In rare cases, the actual appearance and language on the package of the product may differ from the one presented in the picture.
Martiderm The Originals Flash Ampoules Instant Radiance Effect 5x2ml
Martiderm Flash Ampoules is indicated to instantly brighten and lift facial skin, leaving the skin ready for make-up application or just to go out with a radiant skin.

In stock
Order now and get it between next Thursday December 9th and Monday December 13th in the United States with DHL Express Shipping.
Watch videos about this product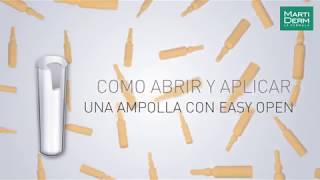 Details
Martiderm Flash Ampoules Instant Radiance Effect instantly brighten the skin with an immediate boost of radiance and hydration. Ideal to use in the morning when your skin must look its best, it's a perfect base for make-up. It has an instant lifting effect due to a powerful combination of peptides, visually reduces dark spots thanks to soft focus particles, and helps to recover the skin's elasticity and firmness. The addition of plant proteins reduces roughness, leaving skin immediately smooth and soft, and creating an elastic film on the skin with a resculpting effect.
Characteristics
Texture: serum;
Skin issues: dullness, wrinkles and fine lines, signs of fatigue;
Time of application: once a day;
Age: 20+;
Skin type: all skin types, including sensitive;
Main benefits: provides immediate moisture to the skin, energizes the complexion and minimizes signs of fatigue, smooths wrinkles and fine lines, leaves the skin brighter and more uniform;
Formulated without: parabens.
Main Ingredients
Hyaluronic acid moisturizes, reduces wrinkles, and improves the texture of the skin;
Silicon moisturizes, improves skin flexibility and boosts absorption of hyaluronic acid.
How to use
Shake Martiderm Flash Ampoules Instant Radiance Effect lightly before use. Place the ampoule on a flat surface and place the EASY OPEN device over it, pressing gently until you hear a soft clicking sound. Remove the EASY OPEN device and the top of the ampoule. Position the dispenser on the ampoule up to the line. Tip half the content into your hand and apply. Store the ampoule on the base, placing the lid on the dispenser.
Additional Info
Share