We try our best to make the image match the product we have in stock. In rare cases, the packaging may be updated by the brand without warning, or the language might differ from the one you see presented.
Watch videos about this product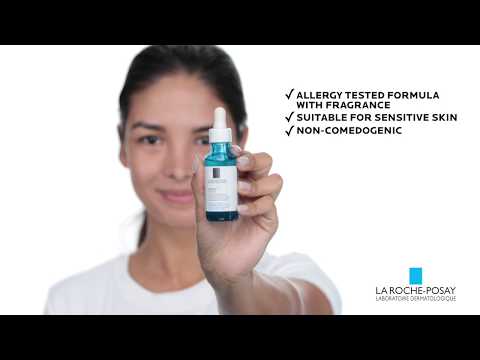 Details
La Roche-Posay Hyalu B5 Serum is a one-of-a-kind serum. With two different-sized molecules of Hyaluronic Acid, it can not only deeply hydrate the skin but also plump it up. The larger molecules act on the surface of the skin and help hydrate and plump, while the smaller molecules penetrate deeper and enhance skin volume. Due to the presence of Madecassoside, it also helps stimulate collagen production, and improve skin elasticity and firmness. And, thanks to the action of Vitamin B5, it also promotes a healthier skin barrier, comforting and soothing the skin. All in all, it is an antiaging booster that suits all skin types, including sensitive skin. After 28 days of use, 87% of the users declared they had more elastic and even skin and 71% agreed their wrinkles looked reduced.
Characteristics
Texture: water-gel;
Skin issues: dehydration, fine lines and wrinkles, loss of elasticity and firmness;
Time of application: morning and evening;
Age: 20+;
Skin type: all skin types, including sensitive skin;
Main benefits: deeply moisturizes the skin providing long-lasting hydration, plums the skin filling fine lines and wrinkles, improves elasticity and firmness, has a fresh light texture non-oily, non-comedogenic and quickly absorbed, is suitable for use after cosmetic procedures such as peelings and hyaluronic acid injections, is suitable for people who are sensitive to nickel;
Formulated without: parabens.
Main Ingredients
0.3% Hyaluronic Acid has the capacity to retain water. This ability not only deeply hydrates the skin but also plumps it up. It helps keep the skin hydrated while smoothing fine lines and wrinkles;
3% Madecassoside helps regenerate the skin and stimulate collagen production. It helps improve elasticity and firmness and fight aging signs;
5% Vitamin B5 helps hydrate the skin and reduce irritation. It not only promotes a healthier skin barrier but also comforts and soothes the skin.
How to use
Apply three or four drops of La Roche-Posay Hyalu B5 Serum both morning and evening, onto previously clean and dry skin. Apply to the face, neck, and decolleté with a gentle massage. You can use it alone or before a moisturizer.
Additional Info
Product Indications
Hydrates, Plumps & Repairs
Share
For better results, also use: