We try our best to make the image match the product we have in stock. In rare cases, the packaging may be updated by the brand without warning, or the language might differ from the one you see presented.
Details
ISDIN Fotoprotector Pediatrics Gel Cream SPF50+ was specifically formulated for the skin of babies and children being suitable to use from 6 months of age. Tested under dermatological and pediatric control, it is suitable for all skin types including sensitive and atopic skin. Containing a powerful blend of sunscreen filters, it provides high protection against both UVA and UVB rays shielding the skin from the harmful effects of solar radiation. And, because it also contains Panthenol in its formula, it also provides hydration to the skin along with a soothing action. With a gel-cream texture, it is suitable for both face and body, and has the ability to hydrate like a cream and refresh like a gel. Quickly absorbed, and both water and friction resistant, it is ideal to protect the skin of the whole family.
Characteristics
Texture: gel-cream;
Skin issues: sun exposure, sensitivity, atopic skin;
Time of application: before and during sun exposure;
Age: 6+ months;
Skin type: all skin types, including sensitive and atopic skin;
Main benefits: provides high sun protection against both UVA and UVB rays, hydrates the skin and provides a pleasant sense of freshness, is a waterproof formula, is dermatologically tested;
Formulated without: parabens.
Main Ingredients

Care to Beauty updates the product ingredient listings periodically. However, the ingredients list might be changed by the brands without any warning, so please read the ingredients list on the packaging of your product before using.
Panthenol not only enhances the regeneration process of the skin but also provides hydration and a soothing action;
Powerful blend of sunscreen filters that provide high protection against both UVB and UVA rays;
Tocopheryl Acetate, also known as Vitamin E, grants antioxidant properties. It protects against free radicals and also enhances the photoprotection of the sunscreen.
How to use
Apply ISDIN Fotoprotector Pediatrics Gel-Cream SPF50+ to the face and body evenly and in generous doses in the morning or 30 minutes before sun exposure. Reapply frequently, especially after perspiring, swimming or drying off with a towel, in order to maintain high levels of protection. Avoid sun exposure at noon or for many hours. Do not expose babies and children directly to the sun.
Additional Info
Share
For better results, also use: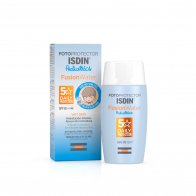 Regular Price: $29.15
Special Price $24.77