We try our best to make the image match the product we have in stock. In rare cases, the packaging may be updated by the brand without warning, or the language might differ from the one you see presented.
Watch videos about this product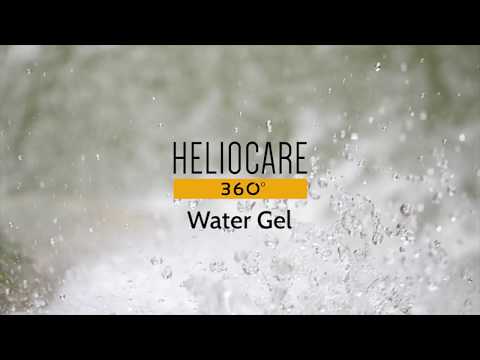 Details
Heliocare 360 Water Gel SPF50+ is a broad-spectrum sunscreen that has the ability to hydrate the skin while protecting. With high photoprotection standards, it provides a complete spectrum coverage against solar radiation and also against visible and infrared light. This formula contains Fernblock®, a patented extract that consists of a combination of ingredients. It contains a botanical extract, that helps to boost the natural defenses of the skin against sun exposure, and antioxidants that will provide antioxidant protection against free radicals. In addition, the presence of Biomimetic Melanin grants protection against high-energy visible light often referred to as "blue light" and the Oxothiazolidine protects against infrared light.
Also enriched with Hyaluronic Acid, this sunscreen has the ability to moisturize the skin and keep it hydrated. With an ultralight texture, that suits all skin types and keeps the skin comfortable and hydrated it is a sunscreen that will perfectly daily protect your skin.
Characteristics
Texture: fluid;
Skin issues: sun exposure, dehydration, photoaging;
Time of application: before and during sun exposure;
Age: 12+;
Skin type: all skin types, including sensitive;
Main benefits: provides high sun protection against both UVA and UVB rays, protects from infrared and visible light, has antioxidant and hydrating properties, is water-resistant and does not sting the eyes, is non-comedogenic and tested under dermatological and ophthalmological control;
Formulated without: alcohol, parabens.
Main Ingredients
Fernblock® derives from a botanical extract that developed a natural mechanism to protect itself from solar radiation. In essence provides anti-aging, anti-oxidant and protective properties;
Hyaluronic Acid is a natural part of the skin connective tissue and has the capacity to retain water deeply moisturizing the skin and keeping it hydrated.
How to use
Shake Heliocare 360 Water Gel SPF50+ before use. Apply to the face evenly and in generous doses 30 minutes before sun exposure. Reapply frequently, especially after perspiring, swimming or drying off with a towel, in order to maintain high levels of protection. Avoid sun exposure at noon or for many hours. Do not expose babies and children directly to the sun.
Notes
According to Heliocare, this product will blend with all skin tones, from skin types VI (Black Skin) to I (Pale Skin) on the Fitzpatrick scale.
Additional Info
Product Indications
Protects & Hydrates
Share