Watch videos about this product
Details
Esthederm Intensive AHA Peel Concentrated Serum is a peeling serum with fruit-derived AHA unifies the skin texture due to its peeling action, reduces the size of dilated pores and regenerates the skin. Thanks to the powerful action of the active ingredients, this serum is able to have an action similar to a chemical peeling, providing a "new skin" effect. The pore surface is reduced by 45% and redness is decreased by 42%, and day after day the texture becomes softer and the skin tone becomes even.
Characteristics
Texture: serum;
Skin issues: dilated pores, irregular skin texture, dull skin;
Time of application: evening;
Age: 30+;
Skin type: oily to combination;
Main benefits: smoothes the texture, reduces pore size, brightens the skin;
Formulated without: parabens.
Main Ingredients
12% AHA (4% glycolic acid, 2.5% lactic acid, 3.5% citric acid and 2% salicylic acid) regenerate the skin, smoothe the texture and brighten the skin.
How to use
Apply Esthederm Intensive AHA Peel Concentrated Serum in the evening, onto cleansed skin on the face, neck and chest. Let the serum sit for at least 15 minutes before applying the moisturizer. Use sunscreen in the morning.
Additional Info
Product Indications
Uneven Texture, Dull Skin, Enlarged Pores
Share
You may also be interested in the following product(s)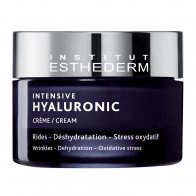 Regular Price: $72.21
Special Price $57.77
Regular Price: $93.23
Special Price $74.59