We try our best to make the image match the product we have in stock. In rare cases, the packaging may be updated by the brand without warning, or the language might differ from the one you see presented.
Watch videos about this product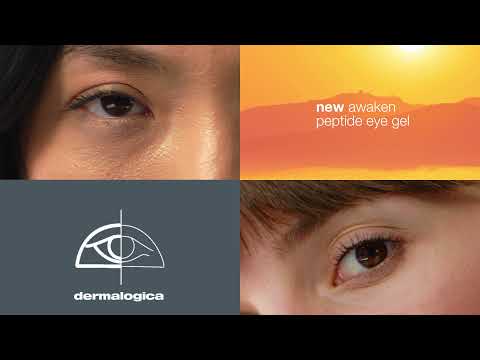 Details
Dermalogica Awaken Peptide Depuffing Eye Gel 15ml (0.5 fl oz) is an eye cream that addresses wrinkles and puffiness. In this way, this eye gel contains Caffeine combined with Tetrapeptides and Rosemary leaf extract to reduce puffiness and fine lines. Then, Succinic acid also contributes to minimize fine lines and wrinkles while Voandzeia subterranea seed extract leaves skin smoother and more luminous. lastly, Jojoba esters hydrate and strenghten the skin. Overall, this eye gel acts in minutes to firm, hydrate and de-puff your eyes for an energized and luminous look.
Characteristics
Texture: gel;
Skin issues: dehydration, fine lines, wrinkles, puffiness;
Time of application: morning and/or evening;
Age: 20+;
Skin type: all skin types;
Main benefits: reduces wrinkles and fine lines, improves firmness, smoothes skin texture, reduces puffiness, hydrates the eye contour area, vegan;
Formulated without:

ingredients of animal origin, alcohol, fragrance, parabens

.
Main Ingredients

Care to Beauty updates the product ingredient listings periodically. However, the ingredients list might be changed by the brands without any warning, so please read the ingredients list on the packaging of your product before using.
Caffeine is well-known for reducing puffiness around the eye area, reducing eye bags;
Tetrapeptides act to firm and smooth the skin in order to reduce puffiness, fine lines, and wrinkles;
Rosemary leaf extract has a soothing action and minimizes swelling, thus reducing puffiness;
Succinic acid helps to reduce fine lines and wrinkles;
Jojoba esters are great emollients thus hydrate the skin;
Voandzeia subterranea seed extract has an anti-aging action. Therefore, not only does it smooth the wrinkles but also increases the skin radiance.
How to use
Apply Dermalogica Awaken Peptide Depuffing Eye Gel 15ml (0.5 fl oz) on the eye contour area, with gentle touches using your ring finer. Massage in light motions until complete absorption. It should be applied before the moisturizer.
Additional Info
Product Indications
Puffiness & Wrinkles
Share