We try our best to make the image match the product we have in stock. In rare cases, the packaging may be updated by the brand without warning, or the language might differ from the one you see presented.
Details
Eucerin Anti-Pigment Spot Corrector is a topical applicator that offers a precision solution for small areas of hyperpigmentation. It contains thiamidol, an active ingredient that acts at the root cause of hyperpigmentation by reducing melanin production. Clinical and dermatological studies show thiamidol is effective in both reducing dark spots and preventing their re-appearance. Because of this, thiamidol is the perfect ally for a radiant and even complexion. Applied directly to dark spots, this product is clinically and dermatologically proven to reduce them and prevent their re-appearance. First results are visible after two weeks and improve continuously with regular use.
Characteristics
Texture: serum;
Skin issues: hyperpigmentation, dark spots, uneven skin tone, sun exposure;
Time of application: once a day;
Age: 18+;
Skin type: all skin types, including sensitive;
Main benefits: reduces dark spots and hyperpigmentation, increases skin brightness, provides a radiant and luminous appearance, leaves the complexion smooth and supple, light formula is easily absorbed, clinically and dermatologically tested;
Formulated without: fragrance.
Main Ingredients

Care to Beauty updates the product ingredient listings periodically. However, the ingredients list might be changed by the brands without any warning, so please read the ingredients list on the packaging of your product before using.
Thiamidol is an active ingredient that acts at the root cause of hyperpigmentation by reducing melanin production, therefore minimizing dark spots.
How to use
Apply Eucerin Anti-Pigment Spot Corrector once a day to well-cleansed skin. Apply the product sparingly and directly to dark spots, while taking care to avoid contact with the eyes. Follow with your usual moisturizer. For best results, use this product in combination with Eucerin Anti-Pigment Day Cream SPF30 and Eucerin Anti-Pigment Dual Serum. Apply each product only once a day, and don't use more than four products containing thiamidol per day.
Additional Info
Share
For better results, also use: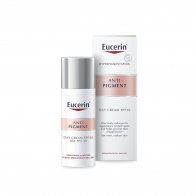 Regular Price: $33.61
Special Price $25.21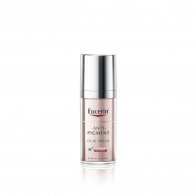 Regular Price: $43.29
Special Price $32.47
Regular Price: $35.26
Special Price $26.44