Cetaphil Moisturizing Cream Dry&Sensitive Skin 453g
Cetaphil Moisturizing Cream is a cream that provides intense and long-lasting moisture for a dry and sensitive skin.

In stock
Order now and get it between next Monday August 10th and Wednesday August 12th in the United States with DHL Express Shipping.
Watch videos about this product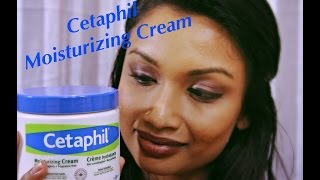 Details
Cetaphil Moisturizing Cream a specialized dermocosmetic, which causes deep and long-lasting skin hydration. It does not contain irritants, fragrances and allergens. The product is rapidly absorbed and its rich formula is easy to spread and leaves no feeling of greasiness. This moisturizing cream is designed for dry skin, very sensitive, after the dermatological treatments and for diseased, damaged skin. The product protects the natural lipid layer of the skin, smoothes and softens the skin immediately after application. Product contains an unique system of very powerful humectants and emollients that prevent loss of moisture and bind water in the skin. It results in long-lasting relief even for a very sensitive and dry skin.
Cetaphil Moisturizing Cream is a luxurious cream that was specially formulated to provide a daily intensive hydration to the skin of the face, hands, feet, elbows and knees - anywhere where the skin needs intensive moisturizing. It works instantly with the result that persists for a long time and it can be used as often as needed. Very gentle, does not contain lanolin and other irritants and is recommended by dermatologists. It is especially useful for psoriasis and eczema.
Characteristics
Cetaphil Moisturizing Cream holds those special properties due to the:
glycerin: efficient and very well known moisturizer;
cetyl alcohol: emollient that restores and protects the lipid layer of the skin;
propylene glycol: is a humectant, it moisturizes by retaining water in the epidermis.
sweet almond oil: highly effective moisturizer which entails a proper moisturizing level to the skin;
How to use
Apply Cetaphil Moisturizing Cream generously as often as it is needed or in accordance to directions of your doctor.
Additional Info
Share