We try our best to make the image match the product we have in stock. In rare cases, the packaging may be updated by the brand without warning, or the language might differ from the one you see presented.
Details
SVR Sebiaclear Micro-Peel Smoothing Renewal Water was specially formulated for sensitive and oily skin prone to acne. It is, in essence, able to target persistent imperfections and help refine and renew the skin. With a powerful combination of active ingredients, it has, as star ingredients, Niacinamide and Salicylic Acid. These actives can not only help eliminate skin imperfections such as blackheads, enlarged pores, and spots but also limit bacterial proliferation and soothe irritated acne-prone skin. In addition, because Salicylic Acid has also a keratolytic action, this water can gently exfoliate the skin helping remove dead cells from its surface. This stimulates cell renewal and lends the skin an even and also smoother appearance. With a pleasant non-greasy and non-sticky watery texture, this delicately scented water can refine and renew your complexion and leave your skin with a pleasant feeling of cleanliness and freshness.
Characteristics
Texture: liquid;
Skin issues: acne-prone skin, blackheads, enlarged pores, spots;
Time of application: morning and evening;
Age: 20+;
Skin type: acne-prone, oily, and combination, including sensitive skin;
Main benefits: gently exfoliates the skin helping remove dead cells from its surface, has anti-inflammatory, bacteriostatic, and also sebum regulating properties, unclogs pores, refines and renews the complexion, has 90% ingredients of natural origin, is non-comedogenic and dermatologically tested;
Formulated without: parabens, silicones, sulfates.
Main Ingredients
Lactobionic Acid has a gentle exfoliating action being ideal for sensitive skin. It gently removes dead cells from the skin's surface helping refine and renew the complexion;
4% Niacinamide increases ceramide synthesis and has anti-inflammatory properties. This leads to better skin hydration and healthier skin barrier helping limit bacterial proliferation and also reduce the discomfort and irritation of acne-prone skin;
Salicylic Acid has anti-inflammatory properties and also a keratolytic action due to its ability to penetrate the pores and exfoliate the skin. It stimulates cell renewal helping regulate sebum and eliminate skin imperfections lending the skin an even and smoother appearance;
1% Zinc has antibacterial and also sebum-regulating properties helping mattify and purify the skin.
How to use
Apply SVR Sebiaclear Micro-Peel Smoothing Renewal Water using a cotton pad or the palm of your hand. Apply to the whole face concentrating on areas of imperfections.
Additional Info
Product Indications
Blackheads, Enlarged Pores & Spots
Share
For better results, also use: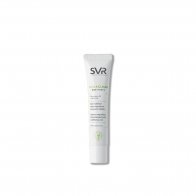 Regular Price: $16.53
Special Price $13.23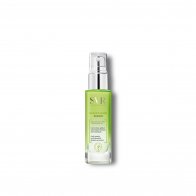 Regular Price: $25.38
Special Price $20.31