Pestle & Mortar Recover Eye Cream 15ml
Pestle & Mortar Recover Eye Cream is a very complete eye cream which targets all premature skin aging signs. The eye contour becomes nourished and hydrated and fines lines are attenuated.

In stock
Watch videos about this product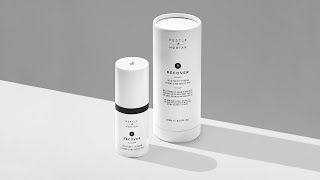 Details
Pestle & Mortar Recover Eye Cream is a very complete eye formula which fights off all signs of aging such as fine lines and wrinkles and dehydration. Moreover, this eye cream also fights eye puffiness and dark circles, making it a unique formulation that addresses all eye area issues. Due to the inclusion of Palmitoyl Tripeptide-5 in the formula, this cream is able to boost collagen production, leading to firmer and smoother skin. The lightweight formula is easily absorbed by the skin, leaving it nourished, but without any heaviness. What's more, the inclusion of antioxidants helps to fight free radicals which cause premature aging.
Characteristics
Texture: fluid cream;
Skin issues: dark circles, puffiness, fine lines, dehydration;
Time of application: morning and evening;
Age: 20+;
Skin type: all skin types, including sensitive;
Main benefits: reduces fine lines and puffiness, reduces the appearance of fine lines, hydrating, vegan;
Formulated without: parabens, fragrance, animal-derived ingredients.
Main Ingredients
Palmitoyl Tripeptide-5 boosts the skin's firmness levels;
Irish Moss extract deeply hydrates and fights aging signs;
Beta-carotene evens out the skin tone and fights free radicals;
Coffee bean extract reduces puffiness and dark circles.
How to use
Gently pat a small amount of Pestle & Mortar Recover Eye Cream on the orbital bone area.
Additional Info
Share