Watch videos about this product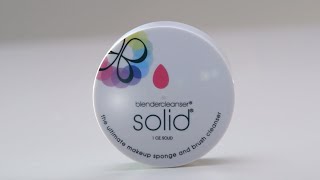 Details
beautyblender blendercleanser Solid is a highly effective yet gentle "soap" that cleans your makeup sponges and brushes. Available here in an easily portable solid formula, this product breaks up makeup and grime while maintaining the integrity of your beautyblender. Formulated with coconut and sustainable palm oils, the conditioning formula is gentle enough to be used on your sponges and brushes every day.
Characteristics
beautyblender blendercleanser Solid has the following characteristics:
Lavender, coconut and sustainable palm oils combine to create a gentle cleanser that softens your sponges while removing buildup;
Effective formula offers protection against 99.7% of harmful germs;
Does not contain parabens, phthalates, or sulfates.
How to use
Wet your makeup sponges or brushes. Then, swirl them against the beautyblender blendercleanser Solid, working the product into a gentle lather. Repeat if necessary. Rinse and squeeze your sponges and brushes to remove any leftover cleanser, then leave out to dry in a clean, well-ventilated area.
Additional Info
Share