Bekijk video's over dit product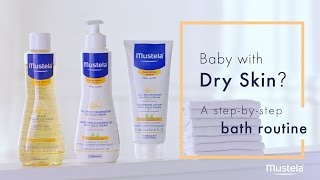 Details
Mustela Baby Cold Cream Nutri-Protective Face Cream is een dermatologisch geteste, gezichtszachte crème voor het gevoelige gezicht van de baby, geschikt voor gebruik vanaf de eerste levensdagen. Dankzij een uniek ontwikkelde formule, die rijk is aan natuurlijke ingrediënten, biedt deze crème onmiddellijke en langdurige hydratatie van de huid. De huid is comfortabel en gevoed vanaf het moment van aanbrengen, verpakt in een delicate geur.
Kenmerken
Textuur: room;
Huidproblemen: uitdroging, uitdroging;
Toepassingstijd: ochtend en / of avond;
Leeftijd: 0+;
Huidtype: droge huid, inclusief gevoelig;
Belangrijkste voordelen: voedt onmiddellijk de droge huid met langdurige effecten, hydrateert, herstelt de huidbarrière en beschermt de huid tegen externe factoren, bewaart de cellulaire bronnen van de huid, hypoallergene, 95% -bestanddelen van natuurlijke oorsprong;
Geformuleerd zonder: parabenen.
Hoofdingrediënten
Avocado perseose is een gepatenteerd, biomimetisch natuurlijk actief bestanddeel dat de fragiele en onrijpe huidbarrière van de baby hydrateert en helpt;
Ceramides + koude crème voeden de huid en helpen haar natuurlijke beschermende barrière te behouden;
Karitéboter verzacht en voedt de opperhuid;
Plantaardige oliën, rijk aan sterol, een bron van essentiële vetzuren, voeden de huid diepgaand.
Hoe te gebruiken
Breng Mustela Baby Cold Cream Nutri-Protective Face Cream 's morgens en' s avonds aan op het gezicht van de baby of het kind.
Extra informatie
Delen