Bekijk video's over dit product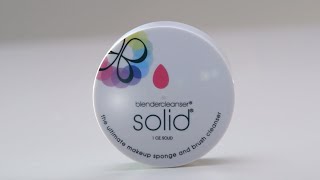 Details
beautyblender blendercleanser Solid is een zeer effectieve en toch zachte "zeep" die je make-up sponzen en -borstels reinigt. Hier verkrijgbaar in een gemakkelijk draagbare, stevige formule, verbreekt dit product make-up en vuil terwijl de integriteit van uw beautyblender . Geformuleerd met kokos en duurzame palmoliën, is de verzorgende formule zacht genoeg om dagelijks op uw sponzen en borstels te worden gebruikt.
Kenmerken
beautyblender blendercleanser Solid heeft de volgende kenmerken:
Lavendel, kokos en duurzame palmoliën vormen samen een milde reiniger die je sponzen verzacht en de opbouw verwijdert;
Effectieve formule biedt bescherming tegen 99,7% van schadelijke bacteriën;
Bevat geen parabenen, ftalaten of sulfaten.
Hoe te gebruiken
Maak je make-up sponzen of -borstels nat. beautyblender blendercleanser Solid ze vervolgens tegen de beautyblender blendercleanser Solid , werk het product in een zacht schuim. Herhaal indien nodig. Spoel en knijp in je sponzen en borstels om restjes van de reiniger te verwijderen en laat het drogen in een schone, goed geventileerde ruimte.
Extra informatie
Delen