We try our best to make the image as a representative of the actual product as possible. In rare cases, the actual appearance and language on the package of the product may differ from the one presented in the picture.
Pestle & Mortar Exfoliate Glycolic Acid Toner 180ml
Pestle & Mortar Exfoliate Glycolic Acid Toner is an exfoliating toner with glycolic acid which addresses rough skin, dilated pores and dark spots, in order to achieve a perfectly even skin.

In stock
Order now and get it between next Thursday January 28th and Monday February 1st in Hong Kong SAR China with DHL Express Shipping.
Watch videos about this product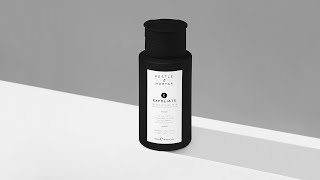 Details
Pestle & Mortar Exfoliate Glycolic Acid Toner is an incredibly effective glycolic acid toner which brightens the complexion and evens out the skin texture. In general, exfoliation is extremely important as it addresses several skin concerns, such as uneven or rough texture, white and blackheads, clogged pores and dead cell accumulation. Given that the formula contains 6.8% free acid value of glycolic acid in a formula with pH of 3.8, this exfoliator instantly provides benefits to the skin, which show up even more with recurring use. In order to make it gentle but still effective, this formula is fragrance-free and contains soothing botanical extracts. In addition to the effective exfoliation, you also get a brightening action which targets dark spots and the pores are tightened.
Characteristics
Texture: liquid;
Skin issues: uneven skin, rough skin, dilated pores;
Time of application: evening;
Age: 20+;
Skin type: all skin types;
Main benefits: exfoliates the skin, reduces pigmentation, tightens dilated pores, vegan;
Formulated without: fragrance, parabens, animal-derived ingredients.
Main Ingredients
Glycolic acid in a pH of 3.8 with 6.8% free acid value exfoliates the skin and increases the cellular turnover;
White Daisy flower extract brightens the complexion by addressing hyperpigmentation;
Green tea and niacinamide fight the skin tone unevenness and strengthen the skin's surface.
How to use
Apply Pestle & Mortar Exfoliate Glycolic Acid Toner in the evening using a cotton pad. Use a sweeping motion in order to guarantee that you cover all the targeted areas and avoid the eye contour. Keep in mind to always use a sunscreen during the day while you're using this product.
Additional Info
Share