We try our best to make the image as a representative of the actual product as possible. In rare cases, the actual appearance and language on the package of the product may differ from the one presented in the picture.
Clarins Nutri-Lumière Nourishing Revitalizing Day Cream 50ml
Clarins Nutri-Lumière Nourishing Revitalizing Day Cream is a day cream for mature skin that features a luscious melting texture.
Price:
A$242.92
& FREE Shipping

In stock
Order now and get it between next Tuesday February 2nd and Thursday February 4th in Australia with DHL Express Shipping.
Watch videos about this product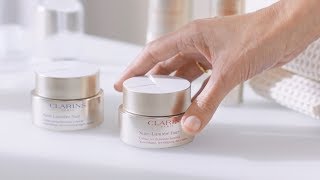 Details
Clarins Nutri-Lumière Nourishing Revitalizing Day Cream is a nutrient-rich day cream for mature skin. Formulated with a luscious, oil-infused melting texture, this moisturizer sinks deep into the skin in order to restore its youthful radiance. The plant-based formula harnesses the properties of organic ingredients to revive a tired and aging complexion; as a result, it visibly improves the appearance of deep-set wrinkles, age spots, and slackening skin. After just two weeks of use, the skin is better nourished; after four weeks, it looks healthier, acquiring a rosy, youthful glow that significantly improves the well-being of 93% of women who try it.
Clarins Nutri-Lumière is an innovative, pro-aging skincare range that nourishes, revitalizes, and illuminates mature skin. As the skin ages, it begins to lose its youthfulness and vigor; at the same time, the skin barrier function grows weaker, resulting in dry skin and a dull, uneven skin tone that no longer reflects your inner glow. In order to counteract these effects, Clarins has especially developed the Nutri-Lumière range, using an exclusive synergy of plant-based extracts that will help you achieve a luminous, healthy-looking complexion.
Characteristics
Texture: cream;
Skin issues: dry and undernourished skin, discomfort, wrinkles and fine lines, loss of firmness, age spots;
Time of application: morning;
Age: 60+;
Skin type: dry to very dry skin, including sensitive;
Main benefits: hydrates, nourishes, and restores vitality to mature skin, lifts and smooths the appearance of slackening skin, minimizes the appearance of deep wrinkles and age spots, leaves the skin softer to the touch, contains an exclusive Clarins Anti-Pollution Complex that protects the skin from the damaging effects of environmental aggressions, oil-infused texture nourishes the skin without leaving a greasy finish.
Main Ingredients
Horse chestnut extract is a nutrient-rich plant known for its strength, resistance, and longevity, which culminate in its rebirth every spring. Clarins combines two potent parts of the horse chestnut plant (an organic flower extract and an active fruit molecule, known as escin) in order to help revive the skin. It is the synergic action of these two ingredients that provides nourishment and newfound luminosity to the complexion;
Organic wakame seaweed extract and plant squalane promote supple, youthful-looking skin at any age;
Harungana, oat sugars, desert date, and Leaf of Life extracts help lift and smooth slackened skin. At the same time, they target dark spots and contribute to maintain the skin's hydration levels;
An exclusive Clarins Anti-Pollution Complex protects the skin from environmental aggressions.
How to use
Apply Clarins Nutri-Lumière Nourishing Revitalizing Day Cream after cleansing and preparing the skin with Clarins Nutri-Lumière Renewing Treatment Essence. Begin by warming a small amount of the day cream between your palms. Then, using the natural weight of your hands, distribute the product evenly over the face and neck. Finally, using the exclusive Clarins Draining Pressure Method, apply pressure to the face in order to stimulate circulation, boost radiance, and restore firmness to the skin: press three times on the cheeks, three times on the forehead, and five times on the neck and décolleté.
Additional Info
Product Indications
Nutrition & Radiance
Share